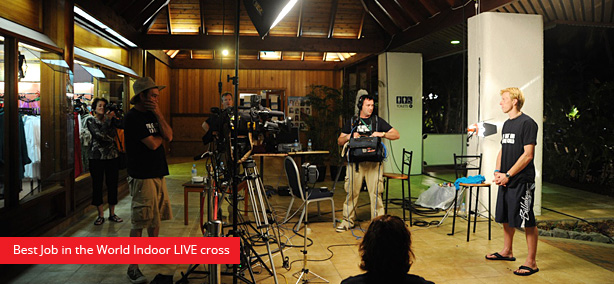 What We Do
Our experience and network has seen us deliver communication and distribution solutions across the full spectrum of production needs. Some of clients and examples of our work include:
News Feeds
The Best Job in the World campaign by Tourism Queensland, Football Federation Australia (including Socceroos – from FIFA World Cup Bid 2018/22 launch in Canberra to the winning bid announcement in Zurich, 2 FIFA World Cups with the Socceroos, Hyundai's Goodwill Ball launch, V8 Supercars, Swimming Australia, Hanson Sports Media Group.
Corporate
Castlemaine Perkins (XXXX), Tourism Queensland (TQ), Mincom, Crook Publicity, Nike, Executive Excellence, Queensland Gas Corporation (QGC), Queensland Tourism Industry Council (QTIC)
Web streaming
Davis Cup, Tourism Queenslands 'Million Dollar Memo' live announcement broadcast.
OB/Directing
Million Dollar Memo 'live announcement'
Live feed Director for 2011 Queensland Tourism Awards, Brisbane Entertainment and Convention Centre
Live feed Director for 2012 National Tourism Awards, Cairns Convention Centre
view our client list
Some of our clients